Kingdom of Candies, Hamfast, 2 Lucie Street, South Qeynos (4 rooms), Storms Server
Hello everybody.
I just finished the house of Hamfast (september the 1st 2012), our family woodworker and horrifying halfling. My husband designed the char and his roleplay: he's a halfling that love candies and dreams of being eaten. Sadly, nobody wants to do it, because he would be very bad for the health, eating only candies and all. 100% sugar and jumjum. He knows very well the Temple of Life as he's going there all the time after severing part of himself to cook it in honey. Go figure.
I designed a perfect house for him, and I'll let him present it as he wishes to.
The house can be found in South Qeynos, 2 Lucie Street, under Hamfast, Storms Server. Published under the name "Au Royaume des Bonbons" in "Logements Moyens". You can access Storms by clicking "US english" in your launcher and changing it to EU Franšais.
Hello, my name is Hamfast Sucredorge (candycane) and I'm a Candy Elemental. Well, I dream of being one. I hope, one day, the powers of Norrath will deem me worthy of wearing this title (or Elemental de Bonbon in french).
A talented decorator helped me create the perfect house for me, a house made of gingerbread, with kitchen, yummy bed and every candy that could be found on Norrath! Come visit with me!
When you enter, you'll find yourself in the dining room. Tables are set with some food and cakes. The chimney should be set to "douces visions" of course, to let the smell of candies fill even more the air!
The chairs are very comfortable gumdrops.
When you open the back door, you'll find yourself in the patio. You can seat around a marvellous chocolate fountain and eat... what? candies of course! What a question!
If you go back and take the curtain to the right, you'll go down into the storage room and kitchen. There, you'll find a big mincer (to mince my legs if you want to eat me in a pie! yesyes, you can!). To the right is the oven and cooking devices. To the back is the storage of drinks, apples, fruits and perfumed sugar for the last device...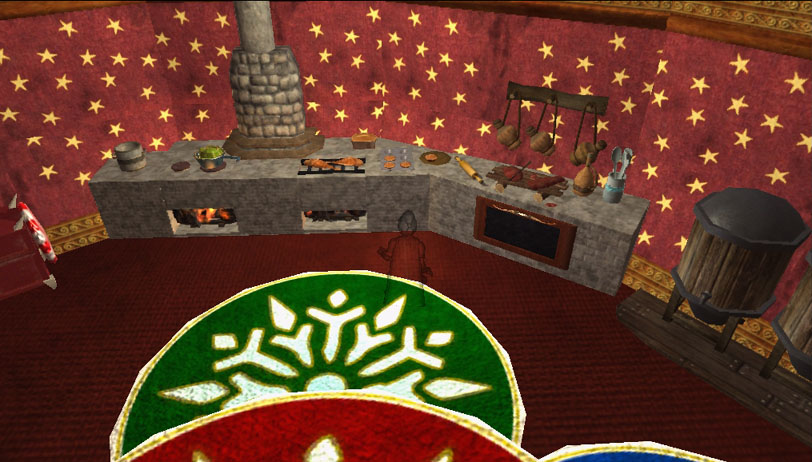 and the last device is... the coton candy machine! (thanks Cloud for the clouds!)
The left handed curtain leads upstairs. One quick word on the "staircases". Qeynos doesn't offer real hobbit holes, so my decorator tried to create a perfect hobbit hole out of a ridiculous human house. The rooms are not perfectly round, neither are the staircases, but they tend to it, so any halfling can feel at home!
Upstairs is the bedroom. The bed is, of course, made with candies and the cussions and quilts are filled with coton candy even if it doesn't show. PERFECT if you are hungry during the night!
There is a massive display of every candy, fruits and cakes available on Norrath. Except some really creepy ones from night of the dead, they fill me with dread!
(decorator note: sadly, it's not possible to climb on the bed due to the invisible walls around the curtains).
Here we are!
I hope you liked it! Feel free to visit and eat some candies. Making them is nearly as good as eating them!